Estyn report says older people in Wales miss out on learning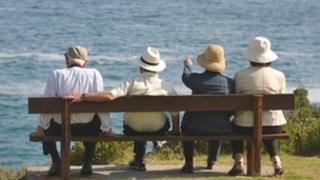 Older people in Wales are missing out on the chance to learn to raise their quality of life, says a new report.
Estyn, the body which monitors education and training, says courses are aimed at job skills.
It urges changes, including better courses and for the Welsh government to improve joint working.
The Welsh government says it is committed to lifelong learning, but must balance it with tackling youth unemployment and developing skills.
There are 15 adult community learning (ACL) partnerships across Wales providing lifelong learning for older learners in the community.
The report says that because the emphasis is on developing skills for employment this does not suit many older learners who are more interested in courses in hobby or craft skills, or courses that help them live a healthy life and maintain their wellbeing.
Estyn chief inspector Ann Keane said the courses had helped unemployed older learners aged between 50 and 65 find work.
"However, there are not enough learning opportunities for learners who are over the age of employment.
"These much older learners want to carry on learning because it helps them to stay active and independent and enables them to get together regularly with other members of the local community," she added.
It was vital that the ACL partnerships review and broadened the range of courses on offer, particularly for those over 70 years of age, she added.
Estyn found failures in collaboration between education, health and social services to support wellbeing into old age.
There is also an absence of a clear strategy by Welsh government departments and local authorities to meet the needs of a growing older population, the report adds.
A Welsh government spokesman said he could not comment in detail as the the full report had not yet been received.
"However, the Welsh government remains committed to lifelong learning, but we must balance this with other priorities like tackling youth unemployment and developing skills," he added.