Hunt under way for Kurdish man after sex attack in Llanelli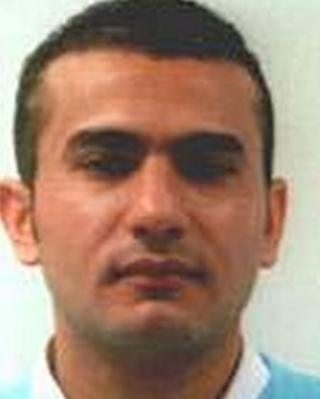 A nationwide manhunt is under way for a Kurdish man in connection with a sexual assault involving two underage teenage girls in Carmarthenshire, say police.
Officers want to speak to Abdulsamda Ahmed Raza, 25, who is believed to be in the Stoke-on-Trent area of Staffordshire.
The assault happened in a property on Old Castle Road in Llanelli during the early evening of Sunday, 11 December.
Police described it as a "very serious offence".
"We have sent officers to the Stoke area on several occasions to try to locate Mr Raza," said Det Insp Gary Phillips, from Dyfed-Powys Police.
"This assault involved underage teenage girls. We are investigating a very serious offence and we need to speak to Mr Raza as soon as possible," he added.
Anyone with information can contact CID officers at Dyfed-Powys Police at Llanelli police station by ringing 101.