Llanfairfechan promenade community draws up flood plan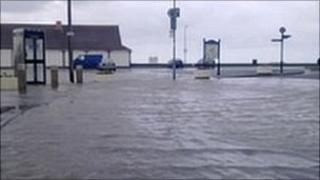 A community hit by flooding in 2010 has taken action to protect residents in future.
A flood plan has been drawn up to protect 45 properties along the promenade in Llanfairfechan, Conwy, which are at risk from the sea and the Afon Ddu.
It includes five wardens who share information and alert residents to the threat of flooding.
The Environment Agency said 178 similar plans were now in force across Wales.
Residents put the plan together with Environment Agency Wales, Llanfairfechan Town Council and Conwy council.
Town councillor, Carol Gell, has seen at first hand the devastating impact a flood can have.
"A number of homes on the promenade flooded a couple of years ago. Luckily the waters didn't reach my property, but other people weren't so lucky," she said.
Putting the plan together involved looking back to what had happened, and discussing how things could have been done differently, she said.
Five people have volunteered as flood wardens and Ms Gill has taken the role of chief flood warden.
Their job is to make sure that when a flood alert is issued, all residents know about it, and using local knowledge they check the areas which are known to flood first.
Being prepared will allow residents to move valuable objects, or fit barriers such as flood gates to their properties.
The plan has already been put into practice when a flood alert for the north Wales coast was issued in November.
"It was an excellent way to test our plan. As soon as we received the flood alert we called Floodline for more information, checked online, contacted all the neighbours and patrolled the promenade," Ms Gell said.
"It's easy to forget things in an emergency, but having everything you need in one place means you can respond much more quickly and efficiently," she added.
The Environment Agency's flood awareness Wales manager, Amanda Irvine, said the plan was vital to ensure a fast response.