Rival breweries join to reopen The Albion pub in Conwy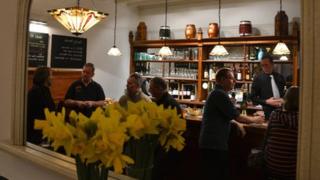 Four small rival breweries have joined forces to help reopen a pub dating back to the 1920s in Conwy.
Around £100,000 has been spent returning The Albion to how it might have looked 90 years ago.
It is the idea of London-based Welsh businessman Arthur Ellis who bought the building last year.
The four north Wales breweries said they were too small to have considered opening a pub alone but together it is an ideal location for their beer.
The pub has four hand pumps on the bar, one for each of them, plus a guest beer and draught cider.
When Mr Ellis bought the building for £95,000, he emailed two local breweries - The Great Orme Brewery and Conwy Brewery, as well as the Bragdy Nant Brewery in Llanrwst and Purple Moose Brewery in Porthmadog.
Great Orme Brewery director Jonathan Hughes said: "I genuinely think it's unique as far as the UK is concerned.
"I can't find any evidence of four competing breweries working together to open a pub."
Mr Ellis said: "It has got the atmosphere that I was so looking forward to and hoping it would have, which is a lovely cosy atmospheric easy going place to drink."
Although the pub does not open until Friday selected guests have had a sneak preview.
Ian Saunders from the Campaign For Real Ale said: "These days pubs are modernising and they are knocking them into one room to make them look modern.
"What they've done with The Albion is actually gone back in time and tried to make it look as it did in the 1920s.
"Some of the work is fantastic - they uncovered wooden beams that had been painted black, they've varnished the wooden floors and polished the bar up.
"I'm hoping that it's good for Conwy as well as for the breweries and the ale drinkers as well."