London 2012: Holyhead hopes for Albanian weightlifters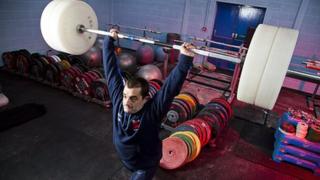 Supporters of an Anglesey weightlifting centre hope a £300,000 refurbishment could help it win the backing of Olympians.
The Holyhead Weightlifting Club believes the site could be used as a pre-games training base for Albania, ahead of London 2012.
The centre is due to reopen shortly after being extended and refitted with the help of European funding.
Last year it hosted a week of training for Chinese athletes.
"There is no doubt that good facilities can be inspirational, and as a centre of excellence we can rival places such as Lilleshall and Bath," argued Ray Williams, the driving force behind the venture.
He is the current Welsh national weightlifting coach and a Commonwealth Games gold medal winner.
"If the facilities are good enough, people will be prepared to travel and that's a good thing not only for Holyhead, which has gone through a tough time with job losses, but also for north Wales," he said.
Mr Williams added that discussions had been going on behind the scenes and he was quite hopeful the Albanian squad would head for Anglesey.
The centre was helped by the Wales Ireland Network for Social Entrepreneurship, which draws support from European coffers and a partnership between Ireland and Wales.
The club already has 80 members, and includes its current star member, welterweight Gareth Evans, who is training with the British Olympic squad in Leeds.
"I'd be very surprised if he wasn't selected for London," added the Welsh coach.