Penmaenmawr shop veranda's uncertain future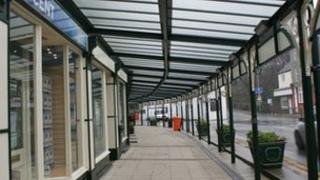 The future of a landmark feature in a Conwy town appears uncertain as the community group which looks after it is wound up.
A veranda has sheltered shop fronts at Pant yr Afon, Penmaenmawr, since Victorian times.
It is owned by the shops, but the Cwmni Penllan trust leased it to renew the structure several years ago.
The mayor says the town council will probably manage it in the future, but not until legal matters are sorted out.
Andrew Hinchliff said Cwmni Penllan was set up as a development trust to establish small community groups in the quarry villages of Penmaenmawr, Llanfairfechan and Dwygyfylchi.
He said that, as part of that work, Cwmni Penllan stepped in to lease the veranda because as a charity it received 100% funding to renew the structure six years ago.
But Cwmni Penllan is being wound up because its funding has dried up, as have the volunteers who helped run it, but there is still around four years left on the veranda lease.
"It does belong to the individuals [who own the various buildings] so we don't want any of the money we'll have from our winding up to be used for any repairs," said Mr Hinchliff.
He said Cwmni Penllan's role had been as a "referee" between the owners when it came to deciding who was responsible for repairs.
"We have to be correct in how we spend our money, and we want to give anything we have to the community groups we helped set up...
Council's concern
"I think the right thing is for the town council to manage the veranda to make sure it is properly looked after, and I'm hoping for a happy conclusion," he added.
Penmaenmawr mayor Vivienne Mooney said the town council needed more information before anything was decided.
"I'm not saying we won't or that we will, but at the end of the day I think it is the council's concern to make sure the various owners look after the structure," she said.
"We need to look first at who is responsible for what. The council can manage it, but we need to make sure it is not going to cost us," she added.