Anglers warn of pollution threat to Seiont, Gwyrfai and Llyfni rivers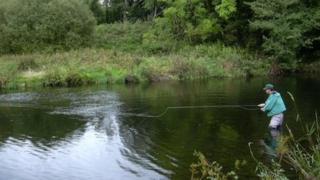 A Gwynedd angling group says it wants to meet the Welsh government in a final bid to stop pollution spoiling rivers.
Members say catches of salmon and sewin are down in the Seiont, Gwyrfai and Llyfni rivers, and sewage affects Llyn Padarn in Llanberis.
The Environment Agency says all sewage discharges should be stopped at Llyn Padarn, while Welsh Water said it was attempting to resolve the issue.
The Welsh government said a meeting would be set up.
Huw Hughes, secretary of the Seiont, Gwyrfai and Llyfni Fishing Society, says catches of both salmon and sewin (or sea trout) are down.
He said the problems in the Seiont were linked to sewage discharges into Llyn Padarn and irregular water discharges from the Dinorwic hydro-electric power station.
Mr Hughes expresses his concern in his monthly report for the angling publication Trout and Salmon.
Parts of the Seiont has Site of Special Scientific Interest (SSSI) status for the protection of char on Llyn Padarn, but Mr Hughes added: "A fat lot of protection this has proved to be."
The Gwyrfai is listed under a European habitats directive but Mr Hughes claimed to date this had been "a waste of time and energy" as far as migratory fish protection was concerned.
One of the "star performers on the Welsh sewin scene", the Llyfni, has also been affected by sewage discharges, he added.
"We, as a club, have requested an audience with the Welsh government's environment minister in one final attempt to try to get Welsh Water to act with utmost urgency to save our waters," he said.
He added the club was frustrated that despite overwhelming evidence the Environment Agency was unable to enforce the water company to take action at Llanberis.
Environment Agency Wales said it too was "very concerned" about Llyn Padarn.
The agency said it had done all it could and introduced higher standards to reduce the amount of sewage discharging into the lake but there were limits to its powers.
"We now believe that the only answer is to stop all discharges so this lake can recover, and become a better habitat for the char," an agency spokesman said.
He added that conditions in the lake were also responsible for the algal bloom which affected the water - and ultimately the local economy - in 2009.
He said that the understanding of the environment has changed considerably since the sewage works was built 60 years ago.
"Simply put, we would not give permission for this kind of system in such a sensitive location," he added.
As the Seiont feeds out of Llyn Padarn, it has an impact on the river, but it was not all bad news.
"An electro fishing survey in one of the tributaries that feeds the Seiont last year revealed that young salmon and trout numbers were at a record high," he said.
"There are many reasons why sewin and salmon numbers fluctuate during different seasons, including mortality rates at sea and other pressures, but we are working to improve spawning grounds and habitats to further improve the population."
Dwr Cymru Welsh Water said it was not aware of any issues in the Afon Llyfni.
The discharges into Llyn Padarn were compliant with the Environment Agency's stringent regulatory requirements, said a spokesman.
"There are other contributing factors to the issues at Llyn Padarn, including diffuse pollution from sources including agriculture which need to be taken into account."
Relocating the discharge from the works elsewhere would incur significant costs to customers, and require a "reprioritisation of our investment programme", said Welsh Water.
"We are continuing to work closely with the agency, and other stakeholders in an attempt to resolve the situation and reprioritise our environmental improvements as needed," he said.