Plan to cut Trefriw playing field E. coli risk during flooding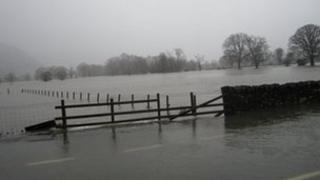 The Environment Agency Wales says it is working to minimise the E. coli risk at times of flooding in a Conwy county playing field.
Tests at the field in Trefriw had revealed higher than normal E. coli levels last September.
The source of the E. coli was identified as coming from animals and not from human waste.
The agency added plans are in place to fence off the area and resume testing in the event of further flooding.
After the higher E. coli levels were detected part of the lower swing field was fenced off, but has since been reopened after levels returned to normal.
The update will be presented to Conwy councillors on Thursday.
The environment agency is also carrying out work to improve drainage at the park, to restore the ground to its pre-flood condition.