Colwyn Bay under-20s Wales-Scotland 'good for town, area and rugby'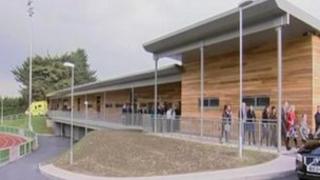 First Minister Carwyn Jones has welcomed the arrival of under-20s Six Nations at Colwyn Bay as good news for the town, north Wales and rugby.
All home under-20s games will be at the new £6.5m centre at Parc Eirias, with the first against Scotland on Friday.
Mr Jones called the development a crucial part of regeneration along the north Wales coast.
Conwy council said a "massive amount of work" had gone into making sure events at Eirias were a success.
"Not only is it a boost for the local economy but as the base for Welsh Rugby Union in north Wales it will also encourage interest in the sport in the area," said Mr Jones.
"I'd like to wish the Wales under-20s team the very best of luck as they play at Parc Eirias for the first time," he added.
The venue, which holds 6,000 people, includes conference rooms and classrooms as well as gym and sports facilities, where the Welsh Rugby Union is basing its North Wales Rugby Academy.
Spectators can use a free "park-and-walk" at Ysgol Bryn Elian, in Old Colwyn, there is a park-and-ride from the Bay View shopping centre in Colwyn Bay, along with a free minibus from the train station.
Alun Pritchard, senior marketing officer with Conwy council, said: "It is a massive game for us and we are fully aware that it needs to go well, that people in north Wales support us, and the way ticket sales are at the moment they seem to be doing just that," he added.
Gates open at 18:00 GMT, with kick-off at 19:35.
"I urge people to get there early because there is entertainment laid on. It will be an exciting event, an experience for all the family," he added.