Bangor murder: Four arrests after death of man in Britannia Square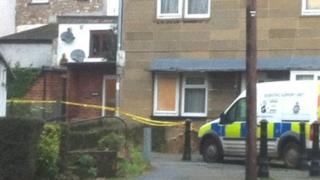 Four people have been arrested by North Wales Police on suspicion of murdering a man after reports of a disturbance in Bangor.
Two men and two women are being questioned following the call to officers early on Sunday.
Officers went to an address in Britannia Square in the Upper Bangor area shortly after 03:00 GMT on Sunday.
Paramedics confirmed that a 43-year-old man has died.
The area where the death occurred is heavily populated with students, although it is not thought that any were involved in this incident.
Gwynedd county councillor Keith Marshall said there had been complaints about disorder locally.
But he added: "It is a mixed community that gets on very well.
"It is the first time we have had a murder in Upper Bangor for as long as I remember - it is an extremely unusual incident."