Caernarfon former Barcud TV studio bought by Beacon Climbing Centre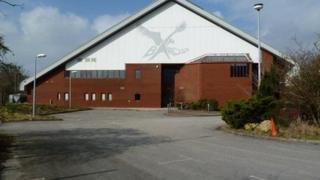 A climbing centre has bought a former television centre left vacant when its owners went into administration.
The site on the Cibyn Industrial Estate in Caernarfon will now be redeveloped and an opening date of June 2012 has been set.
Beacon Climbing Centre said there had been delays in the purchase because the building had been vandalised.
The company, which is currently located near Waunfawr, employs about 10 members of staff.
The Barcud Derwen facility in Caernarfon, Gwynedd, closed in June 2010 with the loss of 35 jobs.
"After Barcud went into liquidation, it was a terrible shock for the community, with so many jobs going," said Beacon director Gill Lovick.
"But if there was a silver lining to all this, it was that Barcud was just the kind of building we were looking for to construct a new climbing wall: high, modern, easy access.
"Everything about it was perfect, and it arrived at the right time for us."
Ms Lovick said it had taken 18 months of "protracted negotiation" to buy the place because "with legal stuff taking so long during the purchase procedure, it gave vandals a chance to break into the building and strip it of a lot of valuable copper, smashing the place up in the process".
"We had to negotiate the purchase all over again," she added.
The company said that the development would not only safeguard existing jobs but another full-time post will be created, along with increased opportunities for freelance climbing instructors.
The existing Beacon Climbing Centre in the old Marconi building in Ceunant near Waunfawr was opened in 1994.
It will close after the new facility in Caernarfon is opened.
"We've waited a long time for this, and we're really excited," said Ms Lovick.
"We've run a really good business for the last 17 years or so, and have seen children practically growing up at the Beacon - some of them are now our instructors.
"However the old building has had its time, and we need to move on so that we can give the community the kind of modern climbing wall it deserves, and improve the prospects for tourism," she added.