Tryfan airlift Ogwen Valley rescue team third call-out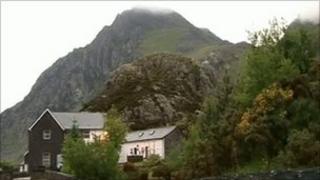 A woman has been airlifted from a Snowdonia mountain in a rescue team's third call-out in 24 hours.
She became trapped on a ledge on Tryfan while walking on Saturday with two men who climbed down and raised the alarm.
Fifteen members of the Ogwen Valley Mountain Rescue Team went to her aid and she was winched to safety by the helicopter from Valley in Anglesey.
On Friday, the team helped a teenager and a man stuck on Tryfan and a party of five who had strayed off a path.
In Saturday's incident a party of three were descending the north ridge of Tryfan but strayed on to steep difficult ground on the west face.
While the woman remained stuck on the ledge, the two men managed to climb down to easy ground and raised the alarm at around 16:25 GMT.
A ground party and RAF helicopter were sent to the scene and the woman was winched to safety at around 18:45 GMT.