Funnel cloud seen over Carneddau mountains in Snowdonia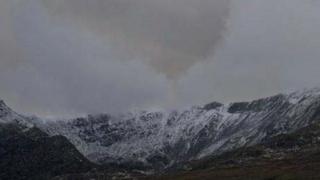 A dramatic cloud formation has been caught on camera above the Carneddau mountain range in Snowdonia.
The 'twister' formation was spotted by walkers at around 16:00 GMT on Sunday above Carnedd Dafydd.
Keen hill-walker Peter Macmillen, who took the picture, said it was an unusual sight and "really spooky".
BBC weatherman Derek Brockway said it looked like a funnel cloud which can form when cold air passes over a warmer sea and then rises up.
He added that weather conditions in the area on Sunday would suggest that this was the cause of the formation.
For a tornado, or water-spout, to form the funnel would have to touch the ground or the sea.
It is impossible, from the picture, to say if this happened on top of Carnedd Dafydd, he added.