Apology over Anglesey ambulance delay for baby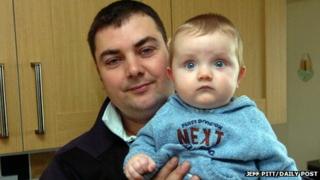 Managers have apologised and an internal inquiry is underway after delays in sending an ambulance to a 999 call for a sick baby on Anglesey.
Berwyn Griffiths dialled 999 after his seven-month-old son Harri had breathing problems at their home near Llangefni.
He was told a nurse would ring back within 15 minutes but the call never came.
After a second 999 call, a first-response paramedic was sent, who called in an ambulance for the child.
Harri, who had been unwell with a chest infection, needed to stay in hospital in Bangor for five days before being well enough to be sent home.
Mr Griffiths said the initial response from the ambulance service was unacceptable.
"No family should ever have to go through what we went through," he said.
"999 is an important service - you only dial it in an emergency."
The baby's father said he decided to call the emergency services after the boy started being sick, and began looking blue.
Internal review
"I was told a nurse would ring back within 15 minutes but the call never came," said Mr Griffiths.
"While we were waiting, Harri was turning blue - so a called again, and spoke to someone else.
"They sent out a paramedic straight away - and they called in an ambulance immediately."
The young boy has now made a full recovery and is back home at Llangristiolus.
The Welsh Ambulance Service said it was now reviewing the incident.
A spokesperson said: "We apologise for any distress caused by the handling of this incident and are currently reviewing it internally.
"The trust is more than willing to discuss any outcome directly with the family if they wish to do so."