JR Oxley's Kinmel Bay bravery medal returned to family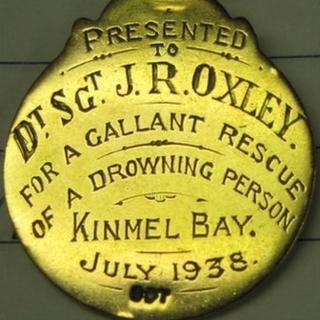 A policeman's bravery medal awarded in 1938 for saving someone from drowning off the north Wales coast has been returned to his family after turning up in a US pawnbroker's shop.
Officers from New Orleans police department in Louisiana contacted North Wales Police for help in 2010.
Research in north Wales helped Orleans police find the medal's owners. They had not realised it had been stolen.
It has been given to the family of John Robert Oxley, who received the medal.
The inscription says it was presented to "DT Sgt JR Oxley" for a "gallant rescue of a drowning person" in Kinmel Bay, July 1938.
Det Kevin Higgins from Orleans Police Department found the medal in a local pawnbroker's shop.
Suspecting it was of too much sentimental value to have been sold, he began inquiries to find out about the officer who was presented with it more than 70 years ago.
It involved contacting North Wales Police for help, as Kinmel Bay is within the force area.
He has now contacted BBC Wales to say thank you for publicising his search for clues which, last month, led to the medal finally being presented to the late Mr Oxley's 92-year-old daughter, Lucy Donoghue.
In a letter, the officer explained that Gwynedd-based family history researcher Keith Morris from Segontium Searchers took up the hunt after initial research by librarians and retired police officers failed to find any new leads.
He uncovered newspaper reports which showed that Mr Oxley, a police officer with Lancashire Constabulary, was on holiday at Kinmel Bay when he sprang into action to rescue a woman who encountered difficulties while in the sea.
'Brother officer'
Mr Oxley and another man successfully revived her on shore and took her back to the camp ground where the policeman was staying with his wife and two daughters.
Mr Morris found that Mr Oxley died in 1965 at the age of 66 in Massachusetts where his daughters had emigrated in the 1950s.
And he managed to track down some family members so Det Higgins was able to contact Mrs Donoghue's relatives.
On checking for the medal in a family keepsake box, her son realised it was missing together with other items, including earrings, which were also found at the pawnbrokers.
A man who took the items to the shop, a former neighbour, was charged and last year convicted for handling stolen property.
Det Higgins said he wanted to thank Mr Morris for his research and BBC Wales.
Mr Morris said he was happy to have played part in the medal's safe return.
"In my own time I tried to find it," he said.
"It's a nice feeling especially because the family didn't know it was missing."
Det Higgins said the medal was returned to the family in mid January.
"I was very pleased how both countries could work together to reach this conclusion, with so many people helping along the way," he said.
"Without it, this medal would have simply been abandoned, and probably destroyed.
"I just couldn't let something like this occur to a brother officer and his family."