Gilly Thomas explains 'paranoid doors' in Oriel Mon exhibition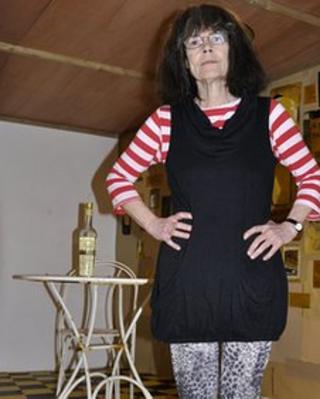 An artist says her concern that she might lack new ideas inspired her to create an imaginative walk-in installation on Anglesey.
Gilly Thomas is also showing 150 paintings and sculptures at Oriel Mon, but her "Yellow Lino Cafe" with its "paranoid doors" is the centrepiece.
The doors have myriad locks and keys, and she says it represents an imaginary place to go and think.
"It is a place in my mind, rather than a real place," she said.
"(It's) a place to think about art... which can be a delicate thing, and I'm sometimes afraid of not being able to produce it," said the artist who lives in Mynydd Llandygai near Bangor, Gwynedd.
Access to the cafe is through what the artist calls "paranoid doors" - one which features locks and bolts and another with 112 keys.
"It could make you feel safe, but sometimes you see a key and think 'here is the key but where is the lock?'.
Ms Thomas said she often woke up during the night, and always at 3am.
"So there are 20 clocks inside the cafe which have all stopped at that time... but there is still a ticking noise, which is a bit ominous.
"It's the feeling that you are the only one in the world who is awake," she added.
Imaginary the cafe might have been, but she professed herself very pleased with how it turned out in reality.
"Amazingly it's almost as I envisaged it... and it can be quite dark," she added.
Elsewhere in the exhibition, which runs from 3 March - 15 April, are 150 paintings and six sculptures featuring "uncanny connections" with various objects such as a lampshade reappearing in more than one piece.
"It's all imaginative, there's only one landscape and that's not real. The work is about relationships, odd [personal] things.
"It's codified though, although a woman said to me once, 'you've been in my life' which I was very pleased about."