Ex-fish farm on Anglesey Selonda UK fined £50,000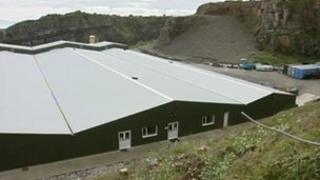 The former owner of an Anglesey fish farm has been fined £50,000 after a protected coastline was polluted.
Selonda UK admitted permitting the discharge of "trade effluent and chemicals" on land at Penmon.
Caernarfon magistrates' court heard how caustic soda leaked from cleaning tanks, polluting the sea and damaging a rock face.
The company, which is in administration, was also ordered to pay £8,000 costs by the district judge.
Selonda UK also admitted a second offence of failing to comply with an environmental permit condition.
The court heard the company had not taken its environmental obligations seriously, and only time would tell if there would be any long-term impact on the area.
District judge Andrew Shaw said the incident happened at a site of special scientific interest and special area of conservation.
The prosecution said after a change of management the problems were remedied.
After the hearing, Sian Williams from Environment Agency Wales, said: "This was a serious pollution offence in an environmentally sensitive area which is popular with local people, tourists and anglers.
"Environmental crime is being taken increasingly seriously by the courts.
"This sentence should serve as a warning that there could be serious repercussions for such behaviour."