Royal Welsh Way name for A470 trunk road section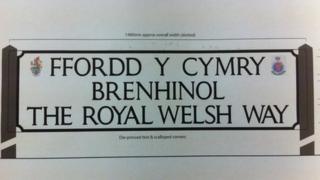 Part of the A470 trunk road in north Wales has been renamed The Royal Welsh Way to honour the army regiment.
It follows a Facebook campaign led by a Conwy councillor to name the stretch of road heading from Llandudno Junction to Llandudno.
After winning the backing of council planners, an order confirming the new name was officially signed on St David's Day, 1 March.
A ceremony to unveil the new name is now expected to take place in April.
Mike Priestley, who represents the nearby Marl ward on Conwy council, said he was delighted to make the announcement, after pushing for the name change.
"These are the types of jobs that as a councillor, we've been able to follow through," he said.
"I feel really proud. The actual order for naming this road was signed on St David's Day - so everything just fell into place - lovely."
The Facebook campaign to recognise the connection with the Royal Welsh regiment was only launched in November, but won instant support.
Local community councils have helped fund the cost of new signs for the first stage of the newly-named stretch, which runs from the Black Cat roundabout in Llandudno Junction to the Marl Farm roundabout.
The campaigners hope a second stretch from Marl Farm to the Llanrhos roundabout will be approved by the council later in the year.
In the meantime, preparations are getting under way for the official naming ceremony in April, ahead of 1st Battalion The Royal Welsh's deployment in Afghanistan later this year.
"What I'd like to do is have the official unveiling before the main body go off to Afghanistan," said Mr Priestley.
He said council colleague Merfyn Thomas, himself a former major in the Royal Welch Fusiliers, had been in touch with the regiment about the announcement.
"They are absolutely delighted - they are honoured, they can't wait to come to Llandudno for the unveiling, and I think it is going to be a really special day," added Mr Priestley.