Talks continue as Galeri looks at taking over Neuadd Dwyfor in Pwllheli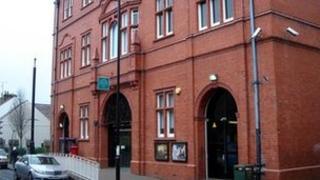 Talks are continuing about the long term future management of a Gwynedd arts venue.
Neuadd Dwyfor in Pwllheli, used as a theatre, cinema, exhibition space and cultural centre, celebrated its centenary last year.
Galeri Caernarfon has presented a business plan outlining how it would manage it from April 2013.
Building-owners Gwynedd council needs to find "a creative new way" of managing it as part of £40m savings.
A spokesman for Gwynedd council said no decision on the future running arrangements for the venue Penlan Street had been made yet.
Galeri is a not-for-profit arts enterprise group, which already runs the Galeri arts and exhibition space in Caernarfon.
Community use
"The council is of the view that further discussions are required before a final decision can be made on whether or not to transfer the management of the venue from the council to the Galeri," he said.
He added that the council's aim is to secure a long-term, sustainable future, for Neuadd Dwyfor "and to enhance the range of cultural opportunities which it can offer to local residents".
The centre opened in 1911 as a cinema, showing silent films.
Councillor Roy Owen, who leads on heritage and the arts for Gwynedd council, said Neuadd Dwyfor has been a much-loved cultural venue for over a century.
"As a council, we are totally committed to its continued long-term use as a theatre, cinema, exhibition space and cultural centre for the local community."
He said the aim is to make sure that the venue can build on its firm foundations and become an even more successful cultural centre for years go come.
"Unfortunately, the fact that the council has to deliver almost £40m of savings over the coming years means that we need to find a creative new way of managing the facility if we are to realise this aim.
"That is why we have been in detailed discussions with Galeri to explore the feasibility of transferring responsibility for managing Neuadd Dwyfor to them as an organisation with a proven track-record of successfully running a similar facility and offering a diverse programme of cultural events."
Gwynedd council recently completed work to safeguard the building.
This included installing new windows, a new ceiling for the auditorium, repairing the roof and replacing equipment.
The council said if negotiations are "positive" Galeri, or a subsidiary of Galeri, would take over managing Neuadd Dwyfor in April 2013.
A spokesperson for Galeri said talks with the council had been ongoing for several months.
"We have produced a business plan which provides an idea of how Galeri Caernarfon Cyf would run the centre.
"The council is now looking at that plan and the discussion continues," he added.