Gwynt y Môr: Part of Pensarn beach to close for works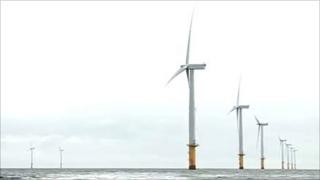 Part of a Conwy beach is due to be fenced off to the public as the next stage of work is due to begin on one of Europe's largest offshore wind farms.
The area at Pensarn will close for three days soon while staff examine how to install power cabling for the Gwynt y Môr development.
Work on the 160-turbine project eight miles (13km) off Llandudno, began in January and will take two years.
It will generate enough energy to meet the needs of about 400,000 homes.
The latest stage of work will involves excavating parts of the beach to help prepare for subsea cabling, which is being brought ashore at Pensarn.
Footpath open
Contractors are trying to establish the best way to install the cabling.
Four cables will transport power from the wind farm to Pensarn. It will then be carried nearly seven miles (11km) underground to a new substation at St Asaph Business Park in Denbighshire.
Toby Edmonds, Gwynt y Môr project director for RWE npower renewables, said: "These trials are very important to establish the exact procedure for the export cable to be brought ashore at Pensarn later in the spring and early summer.
"A small section of the beach will be fenced off to members of the public during the trials and access along the coastal footpath will remain open at all times.
"The work will take place during daylight hours with exact timings determined by the tide."
The company said the beach would be returned to its original state.