Cartrefi Cymunedol Gwynedd tenants unhappy with refurbishment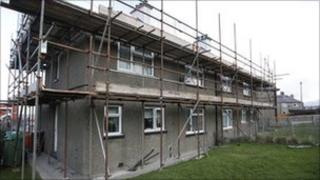 Former Gwynedd council house tenants are complaining about the standard of work carried out by contractors refurbishing their homes.
Cartrefi Cymunedol Gwynedd Cyf (CCG) took over all the housing stock in April 2010.
The current work is part of a £136m scheme of refurbishment of 6,000 homes.
A spokesperson for CCG said there had been 'teething problems' and one contractor was leaving due to mutual agreement.
"I thought it was going to be great when I first heard we were going to get a new kitchen and a new bathroom," said David Rowlands, a tenant from Talysarn in the Nantlle valley.
"It was ok until the electricians came ... nothing was covered and there was mess everywhere."
Mr Rowlands said the work was scheduled to last three weeks, but it went on for much more than that.
He said items still needed to be finished off, and he had been left with lino of two different colours on the kitchen floor.
"It's been a nightmare - horrendous living conditions with workmen coming in and out all the time," he added.
The disgruntled tenant set up a Facebook page so that others could discuss their concerns, attracting more than 100 members.
'Minimal delay'
Ffrancon Williams, the chief executive of CCG, said one of the contractors being used was leaving the project due to a 'number of factors'.
"This is a labour-only contract, whereas contractors would usually tender for the labour and materials, so we have learned lots of lessons," he said.
"As a result of this some tenants have suffered and we apologise for this," he added.
Mr Williams denied the refurbishment scheme was too big and said the problems which had been encountered were "teething problems at the start of something new".
He confirmed that the loss of a contractor would mean "minimal delay for about 70 houses at the tail end of the current batch of jobs".
"The remainder of tenants who will have work done next year should see a seamless link to the next provider," he added.
Properties services group Apollo, the contractor which is leaving the project, said no-one was available to comment.