Cob Records in Bangor shuts doors with day of live music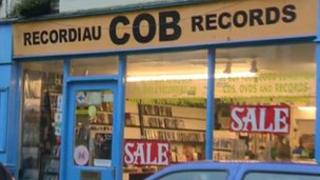 Live music was organised for the last day of a renowned record store in the Gwynedd city of Bangor.
Cob Records closed its doors on Saturday with a broadcast on BBC Radio Cymru and various live artists.
Announcing the closure in January, Cob's Owen Hughes said online sales, music downloads and falling CD sales meant the shop was no longer viable.
It opened in Bangor in 1979, after the success of the second-hand vinyl record shop that still runs at Porthmadog.
For more than 30 years the Bangor shop has been a beacon for music enthusiasts and record collectors from across north Wales and north west England.
It has also been an important breeding ground for Welsh bands, with partnerships formed as members browsed the thousands of vinyl records and CDs stuffed into the shop.
The company's website marked the end of an era with a typically rock 'n' roll pay-off.
"A heartfelt thanks to all of you who have supported us over the years and we want to bid you farewell with the help of some musical friends who are coming along to see us out in style.
"Radio Cymru will be broadcasting a show live from the shop between 10am and midday and this will include live sessions from Georgia Ruth Williams (about 10.30) and Alun Tan Lan (about 11.30).
"Then between 1pm and 4.30pm you can catch sets from Irma Vep (1sh) Lisa and Martin from 9Bach (1.30ish) Efa Supertramp (2ish) Y Niwl (2.30ish) Banda Bacana (3.30ish).
"As with all things in the wonderful world of rock n roll, these times are approximate!"