ScottishPower plans to close Caernarfon and Queensferry offices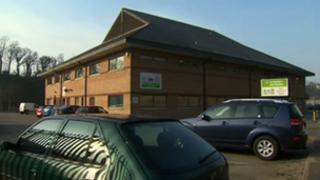 Power company ScottishPower has put forward plans to close two north Wales offices and relocate employees.
All 32 staff in Caernarfon, Gwynedd, and the 10 in Queensferry, Flintshire, will be offered moves to Wrexham and Warrington.
But Arfon MP Hywel Williams said redeployment to Wrexham from Caernarfon would involve an "unrealistic" round trip commute of over 125 miles a day.
The firm said a detailed review of offices was carried out across the UK.
The company said anyone who decided a move to Wrexham would not be practicable would be given the opportunity to apply for any existing vacancies within the ScottishPower Group, or request voluntary redundancy.
A three-month trial relocation is also being offered.
ScottishPower said its commitment remained to providing a Welsh language service.
A three-month consultation with employees and trade unions is expected to be completed by the end of June 2012.
Mr Williams, whose constituency includes Caernarfon, called for "crisis talks" with the company.
"Redeploying from Caernarfon to Wrexham would mean a round trip of over 125 miles (201km) a day," he said.
"This is clearly not a realistic proposition for most people and in effect it will lead to the loss of employment for these local people."
Mr Williams said the jobs were very valuable to Caernarfon, and he questioned whether the Welsh language service would remain as other companies had reported difficulties recruiting Welsh speakers in Wrexham.
"I am deeply disappointed that Scottish Power has taken this decision, which has disastrous implications for people in Caernarfon and the local area," he added.