Llanberis climber trapped with arm stuck in a crevice for three hours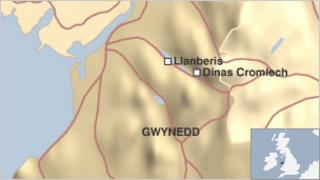 A climber was trapped for three-and-a-half hours hanging from a rope with his arm jammed in a crevice on a climb above Llanberis Pass in Snowdonia.
The man from Aberdyfi, Gwynedd was with a party of four when he slipped a few feet, and became wedged, on Sunday.
It happened on a climb 1,000ft (304m) up Dinas Cromlech.
The climber, 28, was given morphine to ease the pain before rescuers chipped away at rock to free him.
He was flown to hospital in Bangor.
His friends had tried to dislodge his arm for an hour before phoning for help.
Members of Llanberis mountain rescue team went to the scene, a police helicopter brought cave rescuers with explosives from Flintshire, and fire fighters also climbed to the scene.
After being released the man was winched into an RAF Sea King helicopter and flown to Ysbyty Gwynedd.
A Llanberis team spokesman told BBC News the rescue squad had created a ledge out of ropes for the climber to stand on while they worked to free his arm.
"They initially tried to lubricate his arm free, then tried to ice it and cool it [to reduce the swelling]," he said.
"He was in quite a lot of pain and was losing feeling in his arm, in his thumb and forefinger, so was given quite a lot of pain relief.
"They managed to chip away some of the rock and get him out."
He added the fire service were on standby at the scene with all their cutting and rescue kit.
"It was a good joint services rescue."