Power cuts in north Wales after snow and severe weather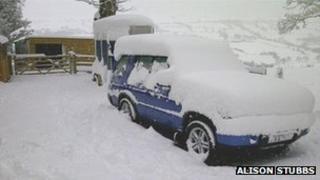 Thousands of residents in parts of north Wales have suffered power cuts following heavy snow and bad weather.
ScottishPower said the problems mostly affected Caernarfon, Anglesey, and the north Wales coast.
It said power had been restored to most properties, but 500 homes remained without electricity on Thursday afternoon.
It said snow and wind made it difficult for engineers to repair power lines, and many minor roads were impassable.
ScottishPower spokesman Guy Jefferson told BBC Radio Wales that most people had been reconnected by late Wednesday night and "only a handful" of customers still cut off would have been without electricity since Wednesday morning.
Areas from Gwynedd to Wrexham and north Powys were among those worst affected by the heavy snowfall on Wednesday.
ScottishPower said it hoped to have most people reconnected later on Thursday.
The company has brought in outside contractors to help with repairs, with about 200 workers involved in the operation.
It said tens of thousands of consumers had suffered some form of disruption.
The spokesman said engineers were now working on major construction work in places where large sections of cable and electricity poles were brought down.