Philippa Jacobs opens North Stack studio over Easter weekend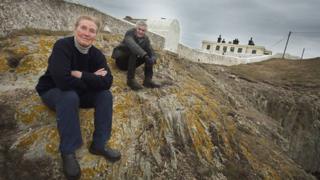 An artist living in a remote location on Anglesey is opening the studio doors to the public for the final time as she is planning to sell up.
Philippa Jacobs says she is finding life on North Stack on the island challenging as she gets older.
Mrs Jacobs is one of 55 artists taking part in an annual art trail this month giving public access to their studios.
She moved to the 19th Century fog station 23 years ago and describes the place as unique.
Mrs Jacobs said: "I really have loved every single minute being here and the only reason I have put it on the market is my age.
"I suppose it's the most inaccessible gallery in the UK but every year I've opened I've had more people each year actually. It's a very worthwhile thing to do."
After a 20 minute walk, art lovers are advised to follow the coast path which skirts the cliff edge and the Irish Sea below.
It is situated between the port of Holyhead and the bird sanctuary of South Stack, near Breakwater Country Park.
The Open Studios and Galleries event is in its ninth year and is organised by Anglesey Arts Forum and continues until Sunday, 15 April.
It works in partnership with Helfa Gelf/Art Trail open network of artists from Gwynedd to Wrexham who open their doors to the public.
Last year, more than 100 determined art lovers trekked to see Mrs Jacobs' exhibition.
And she is expecting more to make the effort when she opens over the weekend, between 14:00-17:00 BST, through to Easter Monday because it may be the last time.
Mrs Jacobs said: "I moved there because I needed the isolation to think. I've never liked living in a city.
"I was married to a farmer for 23 years and lived in the country.
"But when he died I decided that I would find somewhere near the sea because I always loved it.
"This is unique, it is a magnificent place and it is a very great privilege to live here."
Anglesey Art Forum Committee chair Mike Gould said: "This event is a wonderful opportunity that you wouldn't get otherwise to see artists in their own environment, and also to be able to talk and ask questions."