Wylfa: Russian operator Rosatom 'eyeing Horizon Nuclear Power'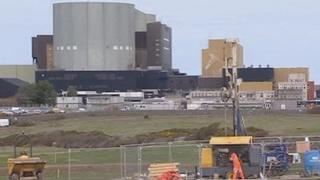 The Russian state-owned nuclear operator Rosatom is reported to be interested in a bid to build a new reactor on Anglesey.
International press reports, including sources in Russia, claim Rosatom could be set to buy a share of Horizon Nuclear Power.
Horizon had been backing the project to build a new nuclear plant on Anglesey to replace the ageing Wylfa reactors.
But German owners E.ON and RWE npower shelved the £8bn plan last month.
Horizon is now up for sale, with the possibility that plans for Anglesey and Oldbury in Gloucestershire could still be pushed forward under new owners.
Russian news agency Tass quotes the deputy head of Rosatom, Sergei Novikov, as declaring that "the British market is very attractive" to the company.
Rosatom carries an AFP agency news report on its own website , which again claims the company is looking to buy a substantial slice of the Horizon group.
However, a spokesperson for RWE npower said the reports were "market speculation", and any moves to sell Horizon to any party were still at a very early stage.
The UK's Department of Energy and Climate Change said it would "take a close interest in any new entrant to the UK nuclear market"
A spokesperson added: "The UK is open for business and actively welcomes inward investment to our energy sector.
Safety record
"Any bid for UK energy assets is, and would be, subject to rigorous scrutiny through the established regulatory process."
The anti-nuclear protest group on Anglesey, Pawb, said Rosatom had "asked KPMG for advice on whether or not they should invest in new nuclear sites in Britain".
Pawb added: "A year and a half ago, the advice by KPMG to RWE was that the carbon floor price didn't justify investing in new nuclear sites".
Critics of nuclear power, including Pawb, have claimed the Rosatom is effectively the same body that oversaw Chernobyl when it was hit by nuclear disaster in 1986.
But Malcolm Grimston, and industry analyst from the Chatham House think-tank, said it was difficult to view Rosatom in light of Chernobyl.
"Chernobyl was more than 25 years ago. It was a particular design that was only ever built in the former Soviet Union, and which the UK in the mid-70s had rejected," stated the analyst.
"So we are not going to be talking about Chernobyl-type designs, and the UK would never allow [one] - indeed didn't allow those to be built 35 years ago.
"Rosatom is the biggest exporter of nuclear plants globally at the moment.
"Fundamentally it has the same approach that Horizon were looking at."
Rosatom has also defended its safety record, pointing out that it is involved in building 14 reactor projects across the world.
'Energy island'
Rosatom's deputy head was quoted by Tass: "Nowadays, Rosatom offers nuclear power plants with reactors of the third plus generation, which have most modern passive security systems.
"This means that should the British project be implemented, it would answer most modern international security requirements and the IAEA norms, which is guaranteed by Rosatom."
A new nuclear plant at Wylfa has been pushed forward by the island's council as part of its economic planning.
Anglesey council said Wylfa was the UK's "prime location for new nuclear build and we understand that a number of strong expressions of interest have already been made in regards to purchasing Horizon Nuclear Power".
It added: As a county council, we would, of course, wish to see a quick sale in order to ensure progression of the plans already developed on the Island.
"It would not, however, be appropriate for us to comment on individual companies expressing an interest."