Sod-cutting ceremony marks final countdown to Urdd Eisteddfod 2012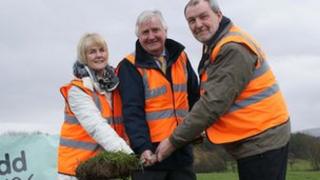 A sod-cutting ceremony has marked the final countdown to the Urdd Eisteddfod being held Gwynedd this year.
Up to 100,000 visitors and 15,000 competitors are expected to attend the event between 4-9 June on the fields of Coleg Meirion Dwyfor college at Glynllifon near Caernarfon.
Seventy acres of green fields will be transformed over the next six weeks.
Local supporters have raised over £300,000 towards the event which is on its second visit to the site.
It was last held there in 2009.
Eisteddfod director Aled Sion said the final stage of organising an eisteddfod was always exciting as the months of hard work comes to fruition.
Traffic restrictions
"We have enough staff to organise the event, but it is the local people and volunteers who put the shine on it," he said.
"It is quite an achievement what they can do in six weeks to transform a green field into a fully operation site ready to welcome youngsters and families from across Wales."
The event is held on a different site each year with the 2013 event being held in Pembrokeshire.
Coleg Meirion Dwyfor is providing the 70-acre site and principal Dr Ian Rees said the college was looking forward to welcoming "one of Europe's largest youth festivals".
"It will be interesting to see how the field develops into the Eisteddfod site over the coming weeks," he added.
With up to 6,000 cars expected each day traffic restrictions will be put in place on the main Caernarfon to Pwllheli route along the A499.
The main arched gateway into the Glynllifon site will be closed during the week with all access via a specially-created gateway in the listed wall which surrounds the estate.
Two local roads - Allt Goch and Lon Cefn Glyn - will also become one-way for the duration of the event.
Before cutting the first sod Arfon assembly member Alun Ffred Jones said his connection to the Urdd stretched back 45 years.
He said he had enjoyed the thrill of competing, and had fond memories of events which had become milestones in his life.
"It's an opportunity to celebrate our Welshness and an opportunity for children and young people to show their talents," he added.