Sub-postmistress Margery Williams sentenced for Llanddaniel post office fraud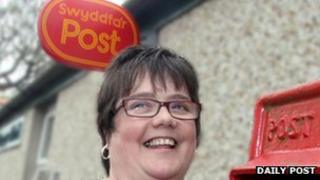 A sub-postmistress who stole more than £14,000 to help keep a community shop open has escaped a prison sentence.
Margery Williams, 45, of Llanddaniel, Anglesey, admitted four charges of fraud against the Post Office.
Williams, described as a pillar of the village, was given a year's sentence, suspended for 18 months, and told to do 200 hours of unpaid work.
Caernarfon Crown Court heard she had repaid the £14,600.
Williams was also given a 12-month supervision order, and she was ordered to pay £600 prosecution costs.
She admitted stealing the money at a court hearing in March.
It heard that the village shop had reopened after villagers paid £15 each to buy the building.
Her legal team said she had been "robbing Peter to pay Paul".
The court heard in March that an audit in June last year uncovered four months of offending.
At a hearing on Thursday, Recorder Wyn Lloyd Jones said he had no doubt that she would never set foot in a court again.
He read testimonials for the foster parent and old people's warden, including one from a councillor and headmaster.
The court heard that Williams earned £100-a-week from the Post Office after becoming sub-postmistress in Llanddaniel in 2009.
Recorder Lloyd Jones said: "This was a lady who was working hard on problems with the shop and helped herself to this money to help the shop.
"But she should have got help if she was in a mess rather than help herself to someone else's money."