Grey squirrel culling may help reduce pox affecting red squirrels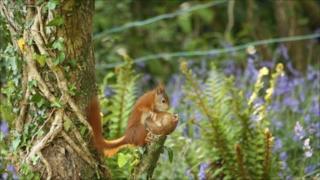 Culling grey squirrels on Anglesey has brought an unexpected bonus in a bid to boost red squirrel numbers, researchers have found.
It has resulted in fewer cases of squirrel pox - which is deadly to reds - as greys are not coming into contact with each other to pass it on.
Grey squirrels do not display any symptoms of squirrel pox, but red squirrels die if they catch it.
The study could lead to changes in red squirrel conservation across the UK.
Research lead by Newcastle University has found that if enough greys are removed from a location then those left who may catch the virus have enough time for the virus to 'burn out' before they meet other greys to pass it onto.
Red squirrel biologist Dr Craig Shuttleworth, who works on Anglesey, is one of the authors of the study, which has been funded by the European Squirrel Initiative.
He said that out of the grey squirrels caught on the island the numbers which carried squirrel pox antibodies had dropped from around 75% in 2002 to just 4% in 2010.
"In fact in 2011 none of the greys we caught had the virus, it had burnt itself out before it was passed on to another grey," he said.
"This is big news for squirrels because if could be compared to badgers becoming clean of TB."
Dr Shuttleworth said researchers had not expected this, and it could change the way red squirrel conservation is carried out.
"Now we can remove competition for the reds but also, by thinning out the grey population around a particular site, we can reduce the chance of squirrel pox creating an epidemic amongst the red population," he said.
It could be particularly useful for areas in England such as Northumberland and Cumbria, he added.
"It may be that we can burn the virus out and we need more research to look into this."
Dr Shuttleworth added that from a practitioners point of view it changes the way risks are handled.
"When I know there's a grey in an area of red squirrels on Anglesey, before I would have been concerned about the virus.
"But now I'm thinking it's probably not infected, and we just need to catch it and get rid of it," he added.