MV Carrier: Wreckage is removed from Llanddulas shore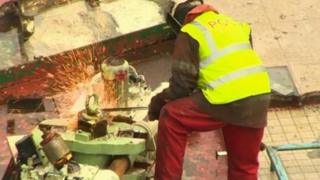 The removal of a wreck from the coast of north Wales has been completed.
Speed restrictions on the A55 remain and a nearby cycle path is still closed until a full safety assessment is carried out.
Cargo ship the MV Carrier which ran aground near Llanddulas in bad weather at the beginning of April was carrying limestone.
Seven Polish crew had to be saved during a rescue involving two lifeboats and Royal Navy and RAF helicopters.
Residual work still needs to be carried out on the site, and the immediate surrounding area, to make it safe for the public.
Colin Mulvana, deputy to the secretary of state's representative for Maritime Salvage and Intervention said the Maritime and Coastguard Agency, Environment Agency Wales, North Wales Police and local authorities had worked with the salvage contractors PGC Demolition to ensure the wreck was removed with "minimal pollution and disruption".
Dave Edwell, from Environment Agency Wales said officers had been on site to oversee the work.
"Fortunately, the environmental impact of this incident has been minimal, and this is a result of the swift action taken by all agencies and contractors involved."
Assistant Chief Constable Gareth Pritchard from North Wales Police said said safety remains a priority.
"The closure of the cycle path and speed restrictions should be observed until the site is fully reopened," he said.