Plaid Cymru and Labour to run Gwynedd council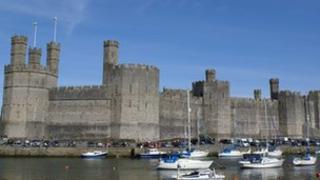 Plaid Cymru has agreed a deal with Labour to run Gwynedd council, after the party failed to win overall control in the local elections.
Plaid fell one seat short of a majority in the May ballot, with 37 of the 74 county council seats.
Labour won four seats, and will now take one of ten seats on the council cabinet, and chair one committee.
A by-election is to be held in Gwynedd in a final council ward, which could still hand Plaid overall control.
But Plaid's group leader, Dyfed Edwards, said his party decided to go into partnership with Labour so they could "roll up our sleeves and do our utmost for the electors".
"I have held discussions with two groups of councillors over the past week or so. By Monday night, we had one offer on the table, from the Labour group," said Mr Edwards.
'No independent offer'
"We decided to accept the Labour group's offer to work with Plaid on a progressive and ambitious manifesto for Gwynedd."
The ruling coalition group now commands 41 of the 74 seats in the council.
"Although we had also been discussing with independent councillors, unfortunately, there was no offer on the table for Plaid's group to discuss," added Mr Edwards.
"The offer from Labour will give us the extra backing that we need to govern responsibly and effectively as well as an input into the agenda for Gwynedd during the next 5 years."
The deal also ensures that the Plaid-Labour partnership would be able to withstand any shift in the power balance if other parties or independents win the outstanding by-election.
A ballot is due to be held in the Bryncrug ward in the south of the county on 15 June, after no-one submitted a nomination for the original election earlier in May.