Y Felinheli Community Council opposes 54 new homes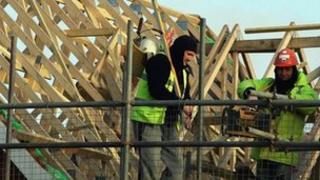 An application to build 54 homes in a Gwynedd village is being opposed by the local community council, which says the area would be over-developed.
They would be built near the primary school in Y Felinheli, which is on the edge of the Menai Strait.
The community council says the local school is already full and housing for elderly people would be preferable.
Gwynedd councillors are recommended that power on the decision is delegated to a senior official for approval.
The application states the homes will vary from a four-bed house to affordable two-bedroomed flats. Twelve will be affordable units to be transferred to a housing association.
Concerns
The community council also objected because of the lack of open land, and an unsuitable mixture of housing is not suitable, "with housing for the elderly and community housing needed instead".
There are also concerns about the design of the two-storey houses, road hazards near the school and access to a footpath.
"The school is full and there is no need to develop the site at the moment," it adds.
The council's transportation unit says the traffic assessment submitted is "satisfactory".
But "due to the concerns locally in relation to the speed of vehicles passing the site, the applicant is willing to introduce additional measures in the form of a mound crossing and road markings in order to highlight the 30mph speed limit".
Welsh Water says it is currently "unlikely that there is enough capacity in the current system to take additional network influx".
The site is specifically designated for housing in the local Unitary Plan.
A public consultation on the plan resulted in 16 letters from local people.
Concerns raised included over-development of the site, a need for a pedestrian crossing and that the road network is already "sub-standard".
The application goes before planners later on Monday with a recommendation to delegate powers to the senior planning service manager to approve the application.
Any approval would be subject to conditions, including landscaping and biodiversity, and disposal of surface water.