Bank closure in Criccieth is 'bad for businesses' say traders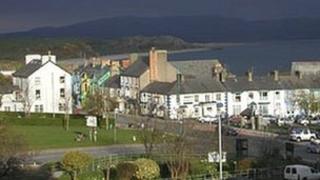 Business people say the closure of the last bank in the Gwynedd seaside town of Criccieth will affect trade.
The HSBC, which is currently open 11 hours a week, will close in September.
Business owners argue that the branch is busy and the closure will hit them as people have to drive 4.8 miles (7.7km) to Porthmadog to bank.
HSBC announced three Welsh branch closures on Monday: Criccieth, Nefyn, also in Gwynedd, and St Clears in Pembrokeshire.
All of them are due to close in September.
Falling customer numbers over the last few years and an increase in telephone and internet banking were blamed by HSBC for the closures.
"This is awful because people come here from Garndolbenmaen and Bryncir so they can avoid going to Porthmadog," said Annwen Hughes, who recently took over Deli Newydd in Criccieth.
"It's a busy bank, there is always someone in there. Closing it is really going to affect businesses. I'm a sole trader so I'll now have to close the shop to drive to Porthmadog to bank," she added.
Elizabeth George, who runs Morannedd Cafe, said there used to be three banks in the town.
"The closure is a great pity for businesses but also the many older people who live here, and who might not drive," she said.
Gwynedd councillor Eurwyn Williams wants the bank to reconsider.
'Shock and disappointment'
"This has come as a shock and disappointment," he said. "It'll be bad for businesses, residents and all the tourists who come here."
The HSBC has also recently closed its bank in Llanfairfechan near Bangor, and said the decision to close was based on making sure the network of branches was at the correct locations.
In Criccieth the company says the branch is currently open for only 11 hours per week and customer usage has fallen significantly over the past few years.
"Our customers either use other branches or they are using the 24-hour convenience of internet or telephone banking," said a spokesperson.
"Our network has to be 'fit for purpose' and we have to ensure that our branches are located in areas where they are actually used."
The bank said it was working with the "small number of customers who use the branch" to help them reorganise their finances ahead of the closure on 28 September.
The member of staff who runs the branch will transfer to another local branch and investigations are being made to see whether it would be practicable to leave a cash machine in the town, the spokesperson added.