Cors Goch reserve pollution probed by Environment Agency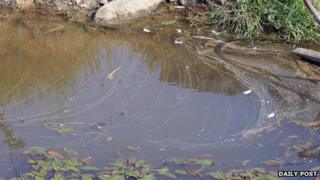 An investigation is under way into a pollution outbreak at a protected wetlands reserve on Anglesey.
Foam and bubbling was spotted on water at Cors Goch, Llanbedrgoch, home to rare plants and protected wildlife.
Environment Agency Wales said it was carrying out an inquiry into the incident to establish the cause.
It said it had traced the source to fields where recent muck spreading had taken place. Management of a poultry abattoir are helping with the inquiry.
Warden Jon Rowe described Friday's incident, affecting a small part of the 100-hectare site, as "pretty serious".
Cors Goch, managed by the North Wales Wildlife Trust, is one of Anglesey's special wetlands, or fens, which depend on peaty soils and a delicate water balance created by limestone springs.
The reserve is a Site of Special Scientific Interest (SSSI) and home to rare orchids, plants and protected species such as water voles, adders and great-crested newts.
Mr Rowe said he was alerted on Friday night to a substance in a stream that flows across the reserve.
"There was foam and bubbling on the water surface and a strong smell in the air," he said.
Although the outbreak had only affected a small percentage of the site, Mr Rowe added: "It's still an important percentage.
"It's an area, purchased in 2005, where conservation work was carried out last year."
Mr Rowe said he feared the incident may have caused a localised extinction of invertebrates, from small water organisms to insect life.
He said there were rare plants on the site which could also have been damaged.
"It's quite serious in terms of it entering the water resource that flows into the fen, and there may be more to come," he said.
'Polluted ground water'
"At this stage it's pretty serious in our eyes."
EAW said it had traced the source of the pollution to muck spreading on nearby fields lying above porous limestone.
This had caused the local ground water supplying the bogs and ponds in and around the nature reserve to be polluted, it said.
The agency confirmed it had contacted PAR Contractors, which disposes of animal waste from the poultry abattoir operated by Vion.
It was expecting to talk to other parties as it looked into the incident, it added.
An EAW spokesperson said: "On Saturday evening, one of our officers with the help of two members of the public traced the source of pollution in the Llanbedrgoch area to nearby fields where landspreading had taken place prior to heavy rainfall.
"We are continuing our investigations in collaboration with Anglesey council public health department."
Vion said it had made contact with EAW to ensure clear lines of communication over the matter.
"PAR have cooperated fully with requests, samples have been taken and results are awaited," the spokesman said.
PAR Contractors declined to comment.