David Doherty: My Big Fat Gypsy Wedding star son jailed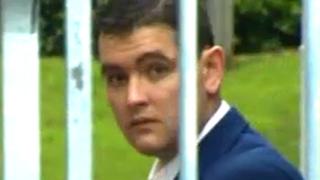 The son of My Big Fat Gypsy Wedding star Paddy Doherty has been jailed for causing the death of a close friend by careless driving.
The judge told David Doherty, 27, he "wickedly" fled following the early morning crash on the A55 near Bangor, Gwynedd on 18 March this year.
Doherty, of Queensferry, Flintshire, admitted causing the death of James Loveridge, 38, from Elton, Cheshire.
Doherty was sentenced to three years and 10 months at Mold Crown Court.
He was already disqualified from driving and was handed a further four-year ban.
Mr Loveridge, a father-of-four who was a front seat passenger in his own Mitsubishi Shogun being driven by Doherty, was declared dead at the scene.
Three others in the back seat were seriously hurt.
Andrew Green, prosecuting, told the court that Doherty crashed into the back of a Renault van parked in a lay-by off the A55, leaving an innocent man with life-changing injuries.
It spun the van around and its driver Victor McClelland was thrown out and landed on the dual carriageway, where he may have been run over by another vehicle as the driver tried to avoid debris, the court heard.
Mr McClelland, who had just flown back into the country, had parked in the lay-by and went to sleep in the back.
The next thing he recalled was waking up in hospital two weeks later and he is still being treated for multiple injuries at a specialist hospital in Stoke-on-Trent.
Stole Land Rover
Attempts were made to detain Doherty, but he ran off, stole a Land Rover Discovery, and drove back to the Riverside Traveller's Park, Queensferry.
Doherty's passengers Thomas Ward, Paul Hulse and Mark Evans were also hurt.
Doherty denied he was over the limit but said he probably mistook the lay-by for a nearby slip road.
"What followed can only be described as an act of sheer wickedness in what I consider to be an entirely separate act of criminality," said Judge Niclas Parry.
"Knowing what you had done, knowing your passenger was dead or dying, or at the very least seriously injured, you left without any regard for anyone else.
"You did not stay to call for assistance but you fled the scene.
"You stole another vehicle, for the second time that morning drove while disqualified and without insurance, in order to avoid detection. It also meant it was not possible for you to be tested for alcohol."
Christopher Harding, defending, said Doherty and the group had been in Chester the night before, and were making their way to Anglesey.
Mr Harding said Doherty drove because the designated driver had been arrested for a public order offence, and he had not taken alcohol.
His planned to pull off at the next exit but his only explanation was he mistook mistook the lay-by for the slip road.
After the case Sgt Ifan Jones, of North Wales Police, said: "The actions of Doherty led to the tragic death of a man, life-changing injuries to another and serious injuries to a further three individuals.
"This sends out a message to others that you cannot escape the law by fleeing the scene of a collision.
"Careless and illegal drivers are not welcome on the roads of north Wales," he added.
David Doherty's father, Paddy, has appeared in Channel 4's My Big Fat Gypsy Wedding and won Channel 5's Celebrity Big Brother in 2011.