Chinese altar bowl fetches £24,000 at Colwyn Bay auction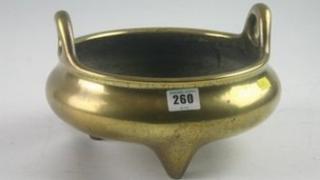 A woman who put a bowl up for auction in Colwyn Bay expecting it to sell for about £100 was shocked to see it fetch £24,000.
The brass bowl was publicised online and it was then collectors realised the importance of its Chinese markings.
The twin-handled bowl is thought to be an altar dish and could date from the 15th Century.
Auctioneers said a telephone bidder from Beijing opened the bidding at £16,000.
In the end, another bidder in Beijing won lot 260 among several online and telephone bidders.
"She nearly fainted when I gave her the good news," said auctioneer David Rogers Jones.
"We were pretty shocked too but in the run up to the sale we had so much interest from Chinese dealers and collectors, we knew it was going to do well."
No details of the former owner have been revealed, but it is thought to have been in her family for a number of years.