Llandudno ex-bank manager Julie Harvey must repay £22k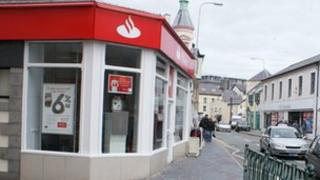 A former bank manager who illegally claimed £35,000 in benefits has been ordered to pay back £22,000 - or serve 14 months in prison.
Mold Crown Court heard Julie Harvey, 53, an ex-Santander branch manager at Llandudno, Conwy, will have to sell her home to meet the bill.
She received a 40-week prison sentence in April, suspended for 12 months.
Under the Proceeds of Crime Act order, she has six months to repay the money to Gwynedd Council.
The court heard Harvey was manager at the Abbey National Bank in Caernarfon, Gwynedd, and ended up in Llandudno when Santander took over.
As well as her suspended prison sentence, she was sacked and ordered to carry out 300 hours of unpaid work after she admitted conspiring to defraud a council out of £35,000 in benefits.
Her partner, former soldier Peter Harvey, 66, admitted defrauding a council and the Department for Work and Pensions out of a total of £74,000 and was jailed for 10 months.
The pair's fraud was spread over more than 25 years.
It included claiming she owned a house in Blaenau Ffestiniog, renting it out to her partner, who claimed to be a single parent living alone.
However, they were a couple with two daughters.
Judge Niclas Parry, said: "This was a conspiracy that went on for the better part of a quarter of a century."