Anglesey council £18m building repairs backlog concern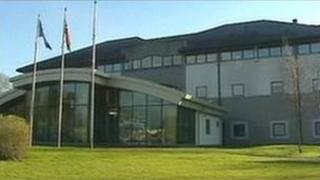 Anglesey council faces an £18m backlog in property repairs, it has emerged.
The authority's head of property says it is moving toward a situation when it can "no longer afford to adequately maintain" all the buildings it uses.
The council needs to spend £12.7m on schools with £5m on health and safety and urgent repairs.
But his report, being considered on Monday, says there is only £740,000 allocated for school repairs this year.
It raises concern that a further small contingency fund may be insufficient to ensure "no schools close due to health and safety issues".
The authority has been looking at the problem of mounting property maintenance costs for the last few years.
The report by Mike Barton, head of property, says repair costs have risen a further £2m since 2009.
'Risk of adverse publicity'
Mr Barton writes: "Less than half of the urgently required maintenance will be completed over the next five years, leaving council buildings in a declining condition and jeopardising the future service delivery for the public".
His report is due to be considered by the authority's commissioners on Monday.
They were appointed to run the council by Welsh government in March 2011 but are due to be replaced by a senior management team in September.
Last week the commissioners restarted a primary school reorganisation process in the Llangefni area to reduce the number of surplus places.
Monday's report talks about "immediately shrinking the footprint of schools with surplus places".
It again raises the issue of reducing the number of public toilets and taking a "risk-based approach to consequences of closure of buildings", including risk of adverse publicity and public reaction.
The report recommends plans are drawn up for a "rationalisation" of properties, including commercial and development sites as well as corporate buildings, finding new funding sources and creating new partnerships to give groups access to some buildings.