Stranded climbers rescued from Cwm Silyn, Snowdonia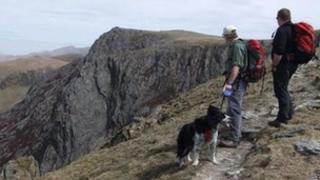 Mountain rescue teams spent all night trying to reach two climbers who became stuck in Snowdonia.
Rescuers were called to Craig yr Ogof, Cwm Silyn, at 21:00 BST on Sunday after the man and woman were unable to go up or down the rock face.
High winds and low cloud prevented a helicopter assisting, so team members spent the night reaching the climbers.
They reached the uninjured pair at about 06:00 on Monday, and led them to safety.
The rescuers were from Aberglaslyn and Llanberis.
A member of the Aberglaslyn team said both climbers had appropriate climbing equipment but unsuitable clothing and footwear.
"The pair started climbing early in the afternoon when conditions were windy but dry but their progress was very slow taking six hours to reach halfway," he said.
"By this time the wind has increased and drizzle was falling making the rock greasy."
The pair tried to get themselves out of the situation, but dialled 999 when they became "cragfast" - which means being unable to ascend or descend the rock face.
"Mild hypothermia was setting in as they were only lightly dressed in summer clothing.
"They had bitten off more than they could chew on this route," he added.
The spokesman said had the pair been better prepared they would have fared better, and it could have prevented a "long, difficult and arduous rescue undertaken in darkness and challenging weather conditions".
It was an example of joint working between the Aberglaslyn and Llanberis Mountain Rescue Teams and the crew of 22 Rescue Squadron, he added.