Expired visa man arrested at wedding in Llandudno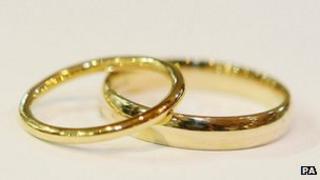 A man has been arrested by immigration officers moments before his wedding, according to the UK Border Agency.
Following a tip-off, officers arrived at the register office in Llandudno, Conwy, on Monday moments before the 22-year-old Egyptian man was to marry.
The man, who had stayed in the UK illegally after his visa had expired, is being held at an immigration centre.
The intended bride, an Italian woman, was questioned but no further action was taken, the agency said.
The groom-to-be was taken to St Asaph police station following his arrest on 30 July.
Immigration officers arrived just before the ceremony, planned for 15:00 BST, and stopped the proceedings.
The agency said the man was later transferred to an immigration detention centre where it said he would remain pending his removal from the UK.
Richard Johnson, of the UK Border Agency, said: "We carry out operations every week across Wales and will arrest offenders at businesses, home addresses and even when they are attempting to get married, as this case shows.
"When we receive information about people who are in the country illegally we act on it.
"We are sending a simple, clear message to anyone attempting to undermine the UK's immigration laws - we will investigate you and catch you."