Criccieth lifeboat proposal shock for Beth Evans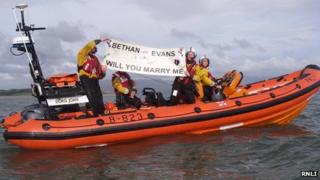 A woman watching a lifeboat on exercise in a Gwynedd town was shocked when a banner from her fiance was unfurled on board, asking her to marry him.
Beth Evans, 24, from Llandudno, Conwy county, had no idea Harry Owen, 23, from Conwy, was going to pop the question during a visit to Criccieth.
She said yes, as the lifeboat crew were diverted to a real-life rescue.
Her fiance said the venue was chosen because his wife-to-be's aunt had donated money to one of the lifeboats.
"It wasn't easy to organise but Beth has been coming to Criccieth with her family for years, so I knew I wanted to propose here," said Mr Owen, who works as a diving contractor.
"Both our mums and her sister helped me and we were going to get a fishing boat to take out the banner, but then her mum suggested the lifeboat.
"Beth's family has links to the lifeboat station here - her Aunt donated money for one of the lifeboats - so it seemed perfect."
A nervous Mr Owen had to stall Ms Evans on the pier as the lifeboat had an inspection, and the banner was hidden while the boat was launched.
He said: "I was really worried, but it circled round in front of the pier and the crew unrolled the banner. I can't thank the crew enough"
Teacher Ms Evans said she was "shocked" when she saw the message.
"When I turned round Harry was down on bended knee," she said.
"It was lovely and because I've been visiting Criccieth and the lifeboat station for a long time it was really sentimental.
"I'll never forget it."
After the proposal the lifeboat crew were pulled from their training to carry out a rescue.
Criccieth Lifeboat Operations Manager, Peter Williams, said: "What began as a routine training evening was more action-packed than usual.
"Thankfully we were able to assist the gentleman with his marriage proposal before being called into service.
"It goes to show that there's no such thing as a routine launch."