Water warning as fire guts house in Dob, Tregarth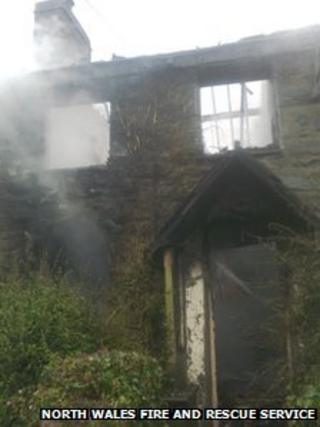 Firefighters are urging people in rural areas to be particularly careful because of the difficulties in finding water to put out flames.
They spoke after a house in Dob, Tregarth, Gwynedd, was destroyed when an open fire is thought to have been overloaded with cardboard and paper.
North Wales Fire and Rescue Service said access to water could be difficult in remote areas.
Crews were called to the semi-detached home on Tuesday but could not save it.
Its neighbouring house also had severe smoke damage. Nobody was injured.
The fire service also urged people to ensure their homes can be found easily and that smoke alarms are fitted.
One man was in the property at the time the fire started and managed to escape uninjured.
'Severe damage'
Ian Williams, head of response for the fire service, said residents living in rural areas had to "especially vigilant" on safety.
"Water access in rural or remote areas can be very limited - this was the case at the fire yesterday in Dob," he said.
"Crews arrived on scene in good time and worked well to prevent the fire from spreading to the next door property, but severe fire damage was caused to the house.
"It is also vitally important to ensure that the emergency services are able to locate your property - ensure that foliage and hedges have been cut back at the entrance to your home and that your property's name is clearly displayed."