Cake Crew Bakery: 100 jobs safeguarded in Bala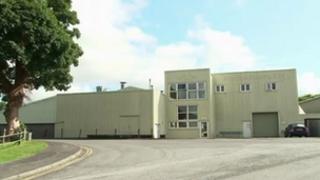 Around 100 jobs have been secured after workers at the Cake Crew Bakery in Bala, Gwynedd, were locked out of their building for two days.
But following negitiations with Baker Tilley, a company working for the landlord of the building, an agreement was reached at 13:00 BST on Wednesday.
A spokesman for the bakery apologised to customers for the disruption.
It is understood Baker Tilley removed items from the site during the two-day row.
MP Elfyn Llwyd said it stemmed from a change in the situation between the company and landlord.
A spokesman for bakery said: "Thankfully this disappointing disruption has now been resolved and we are back in control of the facility and production has resumed.
"We apologise to customers and suppliers for any disruption this may of caused in the past two days which has resulted from circumstances beyond our control."