Anglesey council to decide £100m Holyhead marina plan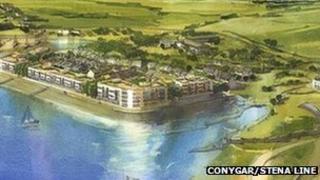 Plans for a £100m marina development at Holyhead can be decided by Anglesey council after the Welsh government said it did not need to get involved.
The plan was given outline permission in June but Anglesey officials sought advice from the Welsh government.
Objectors had wanted the plan considered by a minister because they claim it will destroy Newry beach.
But the developers say it is an "exciting and ambitious" scheme with 700 jobs and "significant benefits".
It includes a 500-berth marina, 326 homes, a hotel and business premises.
The development is a joint venture between Stena Line and Conygar Investment Company.
Last month campaigners against the plans travelled to Cardiff Bay to hand over a 4,500 signatures petition and several hundred letters of protest, to planning inspectors at the Senedd.
It was because of the scale of the plan and local concern that Anglesey council sought advice from Welsh government officers to see whether the case merited being called in for decision by a minister.
In a letter to the authority the Welsh government's planning division said that "on the balance of information provided, and taking account of specific policy responsibilities," it did not consider that the application raises issues which "warrant ministerial intervention".
Anglesey council said it was satisfied with the outcome.
"The minister has thoroughly scrutinised the matter and we are pleased that the application has now been referred back to the council for determination," said the council.