New amphitheatre at Plas Glyn y Weddw near Pwllheli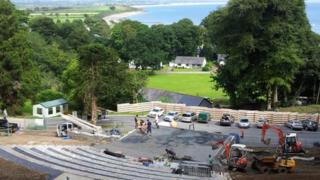 An amphitheatre created on part of a 12-acre woodland in Gwynedd has been officially unveiled.
The £750,000 project at Llanbedrog also includes reopened woodland walks, a multi-purpose room and car park.
Land for the Winllan, next to Plas Glyn y Weddw gallery, was bought in 2008.
"The car park was completed before Christmas but the stonework on the amphitheatre was severely delayed due to the recent wet weather," said gallery director Gwyn Jones.
Materials for the 250-seat structure were sourced as locally as possible with granite from Trefor quarry near Caernarfon, and wood from the clearing of the site.
Mr Jones said the finishing touch was a "frameless glass barrier around the stage to prevent any accidents as there is quite a drop if someone fell off".
Part of the inspiration for the design is the open-air Minack theatre in Cornwall, where performances take place against a backdrop of amazing coastal views.
In Llanbedrog the setting is smaller in scale, but on a clear-day audiences will be able to see along the coast towards Pwllheli.
Ancient woodland
The gallery is housed in a Grade II* listed dower house built in 1856/57 for Lady Elizabeth Love Jones-Parry of the Madryn estate, one of the largest landowners on the Llyn peninsula in the 19th Century.
The woodland is classified as ancient, dating back to before 1600, said Mr Jones, and clearing the site of 70 years worth of neglect was a mammoth task, he added.
"The footpaths hadn't been open to the public since 1946, and in fact when we cleared the site of the invasive rhododendron ponticum and laurel we found two natural springs, and in one we discovered two bullets dated 1941.
"We're not sure how they got there but someone might have thrown them in as one might throw money into a wishing well."
After the clear-up a 25-year plan will make sure that only native trees will be planted from now on.
The new facility will be called Amphitheatre John Andrews after a beneficiary of the gallery.