Rat-run concern on lane near A55 at Crymlyn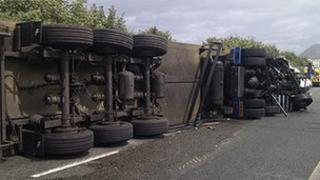 There are concerns a narrow country lane in Gwynedd is increasingly being used by drivers to avoid delays and closures on the A55 dual-carriageway.
Residents at Crymlyn near Abergwyngregyn want speed restrictions.
They also want a message relayed to heavy goods vehicles that the road is unsuitable for them to use.
The Welsh government said it understood that local drivers use the road at times but added it was happy to discuss the situation.
The problem has been highlighted in the wake of a lorry overturning and shedding its load on the A55 on 1 August, closing the road for 12 hours and bringing traffic gridlock.
"People living along Lon Crymlyn have had enough," said local Gwynedd councillor Dafydd Meurig.
"No doubt, the problems that arose on the A55 a few weeks ago caused traffic chaos on many rural lanes and roads, but here at Lon Crymlyn the road is used on a regular basis for A55 traffic trying to by-pass a couple of miles of the A55 between junction 12 at Talbot and junction 13 Abergwyngregyn."
Mr Meurig said residents often tried to persuade lorry drivers to turn around, explaining that the road is unsuitable.
"In fact there are very few passing places and it is so narrow in parts that a large car just about manages to pass," he added.
'Accident waiting to happen'
Large trucks regularly get stuck and one more than one occasion a stone wall over a bridge has had to be demolished and rebuilt in order to get them out, he said.
"It is an accident waiting to happen," he added.
Local assembly member for Arfon, Alun Ffred Jones, said there were "on-going issues" with the road which needed to be addressed so that local people can move freely and safely within their village.
"Heavy vehicles using this unsuitable narrow road causing traffic standstill in the village is totally unacceptable.
"I look forward to discussing this issue in detail with the Welsh government minister," he added.
A Welsh government spokesperson: "We appreciate that if there is an incident on the A55 or during times of heavy traffic congestion, then drivers with local knowledge, do use Lon Crymlyn as an alternative route.
"We are happy to work with Gwynedd Council, who are responsible for managing this road, to explore options to try and resolve any issues and a meeting has already been arranged to discuss the matter."