Memorial for Lewis Darroch and Callum Mackay held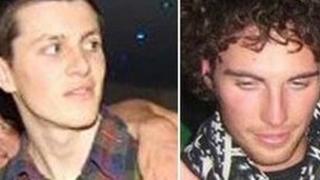 Two friends who drowned off Anglesey have been remembered at a memorial event a year after they died.
Lewis Darroch, 22, had tried to save his friend Callum Mackay, 22, who had got into difficulties while swimming at Cable Bay on the island.
But neither could be saved during the incident on 24 August 2011.
Laurence Cuthbertson organised a memorial event on Saturday at the Belle Vue public house, Bangor to celebrate the life of his friends.
Mr Cuthbertson was at the beach near Rhosneigr on the day of the incident.
He said the group had been enjoying the summer after completing their degrees.
Mr Darroch, from Valley, dived into the water when he spotted that his friend Callum Mackay, from Llanfairpwll, had got into trouble.
He was forced to give up but the waves swept him back into the sea.
He was picked up by a helicopter but was pronounced dead on arrival at hospital, while Mr Mackay's body was found a week later.
A double inquest in Llangefni in January was told that Mr Darroch was to be nominated for a posthumous bravery award by the Carnegie Foundation.
Mr Mackay's father Steven said the award was "absolutely" justified.
He said at the time: "We want to pay a huge tribute to Lewis Alan Darroch for his unstinting bravery in not even considering his own safety but just going in trying to rescue our son Callum.
"Just by a quirk of fate, a tragedy has happened."
Accidental death inquest verdicts were recorded on both men.
On the day of the incident, coastguards had warned Mr Cuthbertson not to go in after them in case he too got into difficulty.
"The last year had been very difficult. You think, what a waste (of life)", he said.
The experience has made him want to warn others of the possible dangers of swimming in the sea, he added.
Volunteers
"I'd say to people make sure there is a clear way of getting out and not to go in when it is too rough."
Mr Cuthbertson said the RNLI and the rescue team from RAF Valley had worked hard to try and help his friends that he wanted to thank them by raising funds.
Alf Pritchard, the volunteer press officer with Trearddur Bay RNLI lifeboat said he and the crew remembered the day of the incident.
"Eight crew were involved in all, as both the life boats were launched, and they stayed out for four-and-a-half hours using flares to provide light to help the search as it got dark.
"We are very grateful that an event is being put on to raise funds. Although this incident was incredibly sad we depend entirely on donations and our aim is to save lives, even though in this case we were unable to do so."