Odd-job man to FAW top job for Trefor Lloyd Hughes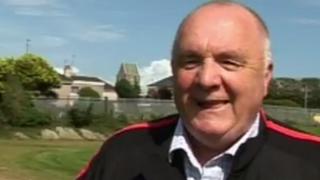 A lifelong football fan who started right at the bottom has been announced as the new Football Association of Wales (FAW) president.
As a 15-year-old Trefor Lloyd Hughes used to sell tickets for 10p door-to-door to raise money for his local club, Bodedern on Anglesey.
Over the years he did everything from put up the nets, to running the after-match bath.
Later an injury put paid to his playing days aged 25 and he moved backstage.
Based at Holyhead on Anglesey Mr Hughes juggled his footballing commitments with work which varied from garage mechanic, an AA breakdown mechanic, to an ambulance paramedic.
"I used to go 'missing' from my patrol round when I was with AA, but only for about an hour-and-a-half on Saturday afternoons!," he said.
Of his football playing he added: "I always say we were the strongest team, because we were always at the bottom of the league, holding everyone else up
"It became a joke that every time I had my hair cut the following Saturday we'd be beaten 10, 11, 12-0... but we enjoyed ourselves."
Recently retired from his 34 years with the ambulance service he says his work at the ambulance station in Holyhead, a stint running his local Sunday school, and being treasurer of Bodedern cricket club stood him in good stead when it came to transferring his skills to the organisational side of the game he loves.
On the various jobs he has had within different levels of the games he says: "The advice I'd give anyone starting out is, listen to people who are older than you. You don't have to do what they say, but it's important to listen."
He said he had managed his paramedic job and his footballing commitments by being "super-organised".
Apart from the contribution to Welsh (and British) football Mr Hughes is also a European delegate during Uefa matches.
"It can be anywhere in Europe and I am off to Latvia, to Riga, next week for three days.
"People don't understand this but someone from Uefa attends every European game as a delegate to make sure that everything is done correctly."
Before being announced as the new FAW president for the next three years Mr Hughes was vice-president.
"I haven't forgotten where I've come from though, and I haven't forgotten those who have helped me along the way. I have much to thank them for."
His dream is to see the Wales team win the World Cup.
He would also like to see supporters turning out in force to support what he calls the "young Welsh team".
"Football is the most played game in Wales, and there is definitely a future.
"Thousands of people meanwhile give their time for free to make sure the game happens on every level.
"I intend to make sure I use my time here to get the best for football throughout Wales."