Mountaineering group of MPs walk up Snowdon to raise awareness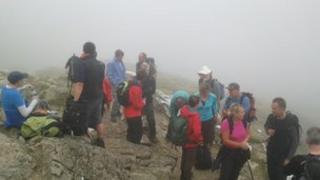 A group of MPs have walked up Snowdon, hoping to capitalise on the "Olympic effect" to get people off their sofas.
The nine are part of the All Party Parliamentary Mountaineering Group set up earlier this year.
The British Mountaineering Council (BMC) is keen to get the MPs backing for walking as a hobby at a time of renewed interest in outdoor sports.
It says that as well as promoting health it boosts the local rural economy.
Elfyn Jones, the access officer with specific responsibility for Wales with the BMC, said the walk provided an opportunity to speak to MPs about Welsh mountaineering.
"It also provides us with an opportunity to promote the benefits of walking both for the economy and health," he said.
Last week a group of MPs joined climbers on the fells in the Lake District to raise awareness of the importance of mountaineering there.
Conservative MP for Macclesfield David Rutley speaking on the way up Snowdon, said now is an ideal time to promote outdoor sport.
"Sports participation is on the up, and the purpose of this walk is to promote outdoor sports for health and wellbeing," he said.
The group walked up Snowdon along the Pyg track supervised by the British Mountaineering Council and experts from the national mountain centre at Plas y Brenin.
"We are doing it in a controlled way, safely, showing people (who do not have the experience) how to do it properly," siad Mr Rutley, who lists his interests outside Parliament as walking, climbing in the Peak District and mountaineering.
"The people at Plas y Brenin were telling me that more and more people are signing up for courses with their families, after being inspired by the Olympics and Paralympics.
"This is ahead too of a new campaign - Britain on Foot - which will be launched later this year to promote accessible walking for all - and it's free, all people have to do is get off the sofa."
Mr Rutley added the group was the only group of MPs which did not meet in a committee room with "power point presentations".
"All the talking is done on the walk and you get to know people so that if an issue about this subject comes up they know we are there to help," he added.
The group set up the peak at 09:30 BST and were due to arrive at the summit before lunch despite "mixed, windy, typically Welsh weather".